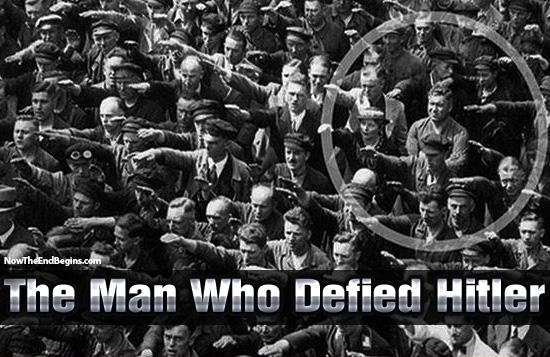 I love defiance and honor the defiant. The rebel, the maverick. The revolutionary. And getting on a talk radio show or blogging is one thing — and that's certainly to be commended. But read the story of August Landmesser.
It was Nazi Germany in 1936, and a crowd of people had gathered in Hamburg to watch the launch of a navy training vessel. As hundreds raised their arms in unison in the Nazi salute, one man stood with his arms crossed, his eyes squinting at whoever was leading the salute.

It was not until 1991 that the man was identified as August Landmesser, a worker at the Blohm + Voss shipyard in Hamburg, by one of his children, after she saw the photo in a German newspaper.

This week, the photo resurfaced once again after a blog that was launched to facilitate relief efforts after the March 11, 2011, Japanese earthquake and tsunami shared it on its Facebook page. As of this writing, the photo has nearly 25,000 shares.

Landmesser apparently had a very personal reason not to make the salute.

While he is believed to have been a member of the Nazi Party from 1931 to 1935, he was later expelled from the party for marrying a Jewish woman, Irma Eckler, according to Fasena, an educational site on the Nazi death camp at Auschwitz.

After Landmesser fathered two daughters with Irma, he was sent to jail for "dishonoring the race." Irma is believed to have been detained by the Gestapo in the Fuhlsbüttel police prison in Hamburg. Their children were separated.

Landmesser was discharged from prison in 1941 but was soon drafted to serve in the war. He was later declared missing in action and believed dead.

In 1996, one of Landmesser's daughters, Irene, wrote a family history in German, saying she hoped to share the story of how her family had been torn apart.

Sixteen years later, that story is spreading across Facebook, thanks to the Internet's habit of rediscovering historical treasures. Much like last week's renewed interest in an ex-slave's 1865 letter to his master, the response to Landmesser's photographic lesson speaks to an Internet audience hungry for stories of moral heroism.
Read the entire article.
Before you get too smug, remember that in our country, the land of the free and whatever, we had anti-miscegenation laws that carried felony charges. How insane is that? What's more, it persisted until 1967 when the Supremes ended this lunacy. Think of it: under those laws Bobby DeNiro would be cracking rocks upstate.
And while we're at it, please enjoy my indictment of the Kennedy myth. The deification and apotheosis of JFK disgusts me. With frothing and hyper-salivating Chris Matthews types, panting and cooing to all things "Camelot," the reality of this boor has been all but distorted, manufactured and imagined. If you believe Mimi Alford as I do, she was tricked, seduced and constructively raped. Ask not . . . my arse!
Loblolly - Members
[ 1:01:59 ]
Play Now
|
Play in Popup
|
Download
(424)