First, the accusations. Here are the actual charges as indicated on Cosby's docket. And moreover, read from a portion of Cosby's deposition that will serve as the basis for his ultimate conviction. It's very simple here. Very evident. Here's the 2015 criminal complaint.
18 § 3125  §§ A1   F2 Agg. Ind. Assault W/O Consent

18 § 3125  §§ A4   F2 Agg. Ind. Assault – Complainant is Unconscious or Unaware that Penetration is Occurring

18 § 3125 §§ A5    F2Agg. Ind. Assault – Person Impairs Complainant
To be specific, read the status yourself. Any questions?
§ 3125.  Aggravated indecent assault.

(a)  Offenses defined.–Except as provided in sections 3121 (relating to rape), 3122.1 (relating to statutory sexual assault), 3123 (relating to involuntary deviate sexual intercourse) and 3124.1 (relating to sexual assault), a person who engages in penetration, however slight, of the genitals or anus of a complainant with a part of the person's body for any purpose other than good faith medical, hygienic or law enforcement procedures commits aggravated indecent assault if:

(1)  the person does so without the complainant's consent;

(2)  the person does so by forcible compulsion;

(3)  the person does so by threat of forcible compulsion that would prevent resistance by a person of reasonable resolution;

(4)  the complainant is unconscious or the person knows that the complainant is unaware that the penetration is occurring;
What?! In a matter of hours after Bill Cosby entered a Pennsylvania courtroom be arraigned on sexual assault charges, his attorneys called the criminal case against him "unjustified" and vowed to fight it.
"The charge by the Montgomery County District Attorney's Office came as no surprise, filed 12 years after the alleged incident and coming on the heels of a hotly contested election for this county's DA during which this case was made the focal point," Cosby's attorneys said in a statement released after his arraignment Wednesday. "Make no mistake, we intend to mount a vigorous defense against this unjustified charge and we expect that Mr. Cosby will be exonerated by a court of law."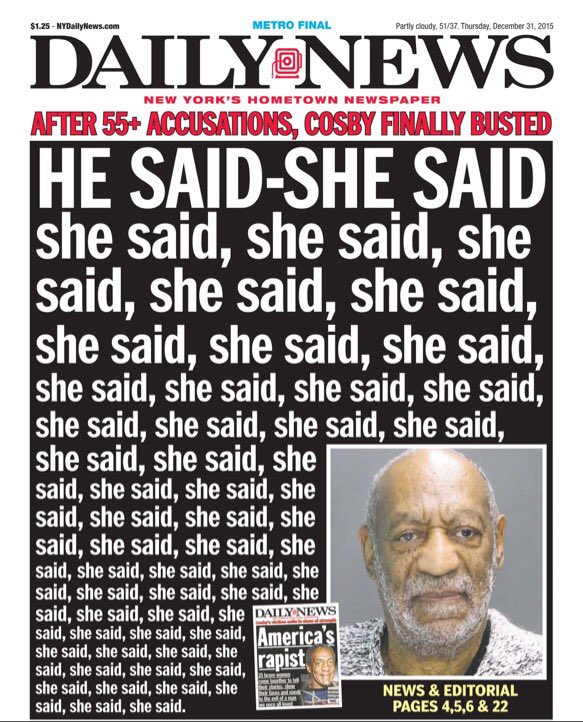 Simply brilliant. And nothing the Daily News does is brilliant. Ever. With the exception of Denis Hamill.
Jail-O for Mr. Jello – Everything to Know About Pill Cosby Predation
[ 32:28 ]
Play Now
|
Play in Popup
|
Download
(1066)