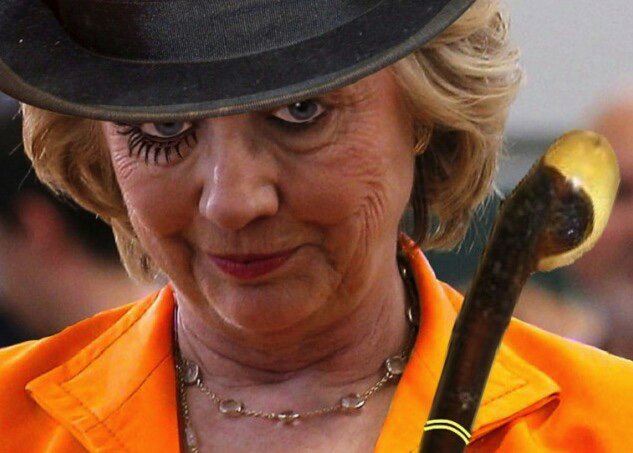 Let me see if I can clarify my political ideology. (See above.) I think this approximates my feelings anent and regarding the situation at hand. I'm not inclined to vote for Hillary. Or anyone. Save me. #LOUS4POTUS. The threat to our republic that Hillary Clinton poses exceeds and transcends anything that the mere and feeble human mind can possibly and adequately comprehend. She's a Wall Street shill, a globalist puppet and a warmonger of the first stripe. Is Trump worse? Better, who cares? The lesser of two evils is still evil. And less. (As someone said, methinks.)
The show that deserves your immediate attention and then amnesia. It is hard to find one particular media sideshow that is by far the absolute worst when it comes to promoting and spewing disinformation, misinformation, ignorance as an artform and possessing a corrupt and putrid bias that in no wise even approximates the truth. A program "manned" by the least-informed and lest-equipped intellectually, factually and experientially. It's difficult because the list of potential offenders is burgeoning. But hands down, the worst offender is by far and absolutely ABC's The View. Congratulations. It's simply breathtaking in its limited view and minimalist imagination with no early recognition of historicity and precedent.
The oaf's oaf. "Hello, I'm Gary Johnson, a disheveled maundering dolt. A weed-addled, confused rodeo clown and distraction from my real sponsors: corporate fascists. My running mate's a weathered sot and hack on the back nine of a dubious career. I lure disenchanted voters with the halcyon promise of ending weed penalties. And a few words about prostitution. I've really no plans to speak of and, frankly, just enjoy this vanity campaign. Look, I know it's not about Aleppo. It's about a bigger picture. It's about how I, a loon who actually favors TPP, digs Hillary, advocates carbon taxes, refuses to acknowledge illegal aliens by insisting on "undocumented" whatevers, and who even believes bakeries should be forced to create gay, KK K, Nazi cakes – it's about how I am fooling you loons by dangling that hoary and weathered Libertarian platform in front of you. I'm a façade. A Potemkin village. A cover. My kind goes back to Rockefeller, Lionel Robinson, LSE and a host of asset-stripping jackals and globalist thugs. Take that, suckas!"
Aleppo. Zeppo. Gone-o. Gary Johnson is a buffoon. A Boeotian. A rodeo clown and cover. A chuff and agrestic Boeotian. He's there to strip votes from Trump or perhaps Hillary. He's a Libertarian, a one-size-fits-all monumentally and breathtakingly vague standard bearer of a Potemkin village cover for corporate fascism. But if you've listened to me, you already knew that. Mike Barnicle, remember him? You should.
Asked what he would do about the Syrian city of Aleppo, the region at the center of that nation's civil war and refugee crisis, Libertarian presidential candidate Gary Johnson responded by asking, "what is Aleppo?"

"What would you do if you were elected about Aleppo?" MSNBC's "Morning Joe" panelist Mike Barnicle asked the former New Mexico governor during an in-studio interview Thursday morning.

"And what is Aleppo?" Johnson responded.

"You're kidding," a stunned Barnicle replied, to which Johnson answered that he was not.

Barnicle explained to the Libertarian candidate that Aleppo is "the epicenter of the refugee crisis" in Syria, giving Johnson enough information to finally answer the question.

"Okay, Got it. Well, with regard to Syria, I do think that it's a mess," he said. "I think the only way that we deal with Syria is to join hands with Russia to diplomatically bring that at an end but when we've aligned ourselves with — when we have supported the opposition, the Free Syrian Army, the Free Syrian Army is also coupled with the Islamists, and then the fact that we're also supporting the Kurds and this is, it's just a mess. And this is the result of regime change that we end up supporting and, inevitably, these regime changes have led to a less safe world."

Asked what he would do about the Syrian city of Aleppo, the region at the center of that nation's civil war and refugee crisis, Libertarian presidential candidate Gary Johnson responded by asking, "what is Aleppo?"

"What would you do if you were elected about Aleppo?" MSNBC's "Morning Joe" panelist Mike Barnicle asked the former New Mexico governor during an in-studio interview Thursday morning.

"And what is Aleppo?" Johnson responded.

"You're kidding," a stunned Barnicle replied, to which Johnson answered that he was not.

Barnicle explained to the Libertarian candidate that Aleppo is "the epicenter of the refugee crisis" in Syria, giving Johnson enough information to finally answer the question.

"Okay, Got it. Well, with regard to Syria, I do think that it's a mess," he said. "I think the only way that we deal with Syria is to join hands with Russia to diplomatically bring that at an end but when we've aligned ourselves with — when we have supported the opposition, the Free Syrian Army, the Free Syrian Army is also coupled with the Islamists, and then the fact that we're also supporting the Kurds and this is, it's just a mess. And this is the result of regime change that we end up supporting and, inevitably, these regime changes have led to a less safe world." [Source]
The Distraction of the Republic in Realtime Real Fast
[ 30:45 ]
Play Now
|
Play in Popup
|
Download
(2511)